Information about system requirements
Check whether your computer fulfils the requirements of 4Ancient:
Insufficient storage space on the graphic card can lead to jerking of the picture. Configure your game settings to avoid this type of problem. If you play using the minimum system requirements, do not forget to check the graphic settings under "system" in the menu.
If a lot of users download the client at the same time, downloading may take longer. If this is the case we ask you to be patient.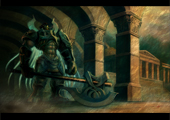 1st:
When you download 4Ancient for the first time, you have to download the full version of the client. After you have installed 4Ancient, you can start the game and enter the world of Iberia.
2nd:
Choose the language you want to install in the drop down menu and click the "Download Languagepack" Button afterwards.
The client download can be canceled and resumed at any time!
Minimum requirements
| | | | |
| --- | --- | --- | --- |
| | Operating System | - | Windows 2000/XP/Vista |
| | CPU | - | Pentium4 1.6GHz |
| | RAM | - | 1024 MB |
| | Graphics Card | - | GeForce4 MX440 64MB |
| | DirectX Version | - | DirectX 9.0c |
| | Disk Space | - | 2GB or more |
Recommended requirements
| | | | |
| --- | --- | --- | --- |
| | Operating System | - | Windows 2000/XP/Vista |
| | CPU | - | Pentium4 2.4GHz |
| | RAM | - | 2048 Mb |
| | Graphics Card | - | GeForce FX5200 128Mb |
| | DirectX Version | - | DirectX 9.0c |
| | Disk Space | - | 3GB or more |